LADDERS & LADDER EXTENSIONS - SERIES L
Applications
Halliday Products durable corrosion resistant ladders are manufactured in either aluminum or stainless steel. Ladders utilize all welded construction and are custom made to insure proper fit for a perfect installation every time. Just supply us with the following:
Required Ladder length

Wall configuration

(diameter or flat)

Stand-off type

(fixed or adjustable for very uneven walls)

Stand-off length

(distance off the wall)
We'll handle it from there.
​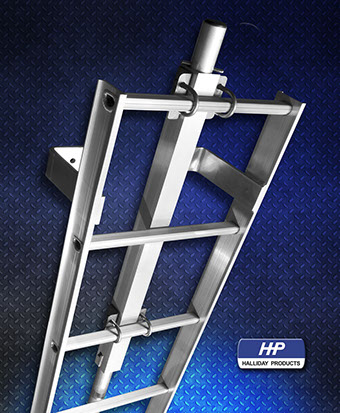 Series L1B and L1D - Ladder
Series L1B utilizes wall mounted standoffs while Series L1D utilizes both wall mounted standoffs and floor attachments. Aluminum ladders are used in both above and below ground applications where corrosion resistance is required. Ladders are of welded construction and utilize 1/2" x 2 3/4" (13mm x 70mm) channel stringers with 1 3/8" (35mm) diameter type "D" rungs with flat slip resistant surface. Standard ladders are 16" (406mm) wide with different widths up to 24"(610mm) available upon request. Ladder lengths and stand off lengths are custom fit for each application. Required information includes ladder length, standoff length and wall configuration.
​​Get a Quote for L1B & L1DDownload L1B & L1D Drawing (PDF) ››Download L1B & L1D Drawing (DWG) ››
​
Series L1E - Ladder Extension
Series L1E ladder extensions are used to assist personnel in getting on and off of a ladder. The extension retracts after use so that the access cover can be closed. Model A is for tank or pit depths over 73" and the Model B is for tank or pit depth between 55" and 73".
​​Get a Quote for L1EDownload L1E Drawing (PDF) ››Download L1E Drawing (DWG) ››