MIXER MAST
Applications
Mixer mast systems by Halliday Products provide a durable, turnkey installation complete with hoisting davit and static cable. Our custom fit mast assemblies are manufactured in type 304 or type 316 stainless steel and are compatible with all major submersible mixers.
​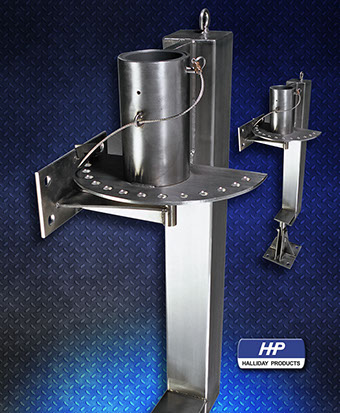 Halliday Products mixer mast assemblies offer an effective way to position and retrieve submersible mixers. Offered in 2" (51mm) and 4" (102mm) square tube systems, which incorporate the following standard features: Dedicated hoist with marine grade brake winch and 1/4" (7mm). stainless steel cable, positioner plate with up to 14 settings, upper and intermediate wall brackets with Kynar® bushings and extension brackets for Y and T wall applications, pivoting base bracket that accommodates sloping tank floors, and adjustable static cable assembly to vertically position the mixer. All mast assemblies are custom fit to tank depth requirements, and all hoist reaches are sized to individual mixer pick points.
​​Get a Quote for Mixer MastDownload Mixer Mast Drawing (PDF) ››Download Mixer Mast Drawing (DWG) ››

Let's make your project happen!
CUSTOMER SERVICE
1-800-298-1027 (USA)
1-407-298-4470
ADDRESS
6401 Edgewater Drive Orlando, FL 32810
DIGITAL CATALOG
To receive your free electronic or printed catalog
register here »