Manufacturers and worldwide suppliers of aluminum access covers since 1972, offering a full line of aluminum and stainless steel products for municipal and industrial water and wastewater treatment industries around the globe.
Try Our New Digital Interactive Catalog
Click here to view »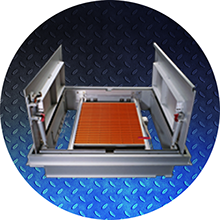 Check Out Our Overstock List
Click here to view »
NEWS: Halliday Launches New Website for 2016
Click here to read more »
Here we produce the latest and best equipment at the lowest possible cost to you and at the highest quality standard found anywhere. Our employees are motivated to use their skills to achieve the high standards set by the company.
From our facility in Orlando, Florida, we produce Aluminum Access Covers, Debris Baskets, Portable Hoists, Ladders and Safety Extensions, Mixer Masts, Slide/Stop Gates, and Accessories.
LEARN MORE ABOUT OUR PROCESS
A trusted industry leader for over 40 years, the Halliday Products brand has become synonymous with quality metal products for the municipal and wastewater treatment industries. We have a dedicated staff of employees who are motivated to use their skills to achieve the high standards set by the company. The same managing hands that founded us continue to guide us today, constantly striving to reach new levels of both quality in our products, and satisfaction for our customers—nationwide and around the world.
Download the technical drawings and specifications you need
Halliday Products maintains an unparalleled standard of customer service, which includes rapid response to quotation requests, quick turnaround of submittal drawings, and timely shipments. As you visit our site and choose from our menu of products you will find drawings in AutoCAD format and applications and specifications for each, all in downloadable format.
Halliday Products is the inventor and manufacturer of the RETRO-GRATE™
Fall-thru Prevention System!
Fear no more—the Retro-Grate™ provides additional protection against fall through accidents when the cover is left in the open position. Click here to learn more about Retro-Grate.™
SEE WHERE HALLIDAY PRODUCTS HAS BEEN TRUSTED AROUND THE WORLD
Get a sneak peek at the new product and service features Halliday is bringing to market in the coming year.
Let's make your project happen!
CUSTOMER SERVICE
1-800-298-1027 (USA)
1-407-298-4470
1-407-298-4534 (Fax)
ADDRESS
6401 Edgewater Drive Orlando, FL 32810
DIGITAL CATALOG
To receive your free
electronic or printed catalog register here »
ADDITIONAL CONTACTS